Keeping track of resources used, articles references, websites access, and other sources of information used in your writing is a challenge, especially with the distractions of searching online. Using an online tool like Zotero can help manage the process and the information.
What is a Bibliography?
A bibliography is the list of resources used when researching a topic and/or writing a paper. You'll also find it referred to as the References section or even labeled as Resources. No matter what an author calls this list, they are referring to the works that he or she referred to in order to complete their book.
Why You Need One
It's easy to understand why nonfiction books have pages of resources used. But what about fiction? You always want to credit your sources. Reasons to do so are:
Avoids plagiarism.
Gives credit to the people whose work you are using and acknowledge their efforts.
Makes your work more credible.
Tells your readers where you found your information so they can do further research if they wish.
If nothing else, it creates a good reference list for yourself in case you need to revisit the subject.
Regardless of whether you're writing fiction or nonfiction, you will need to research something related to your book. Maybe you need to know how cold the weather gets in a country your character visits because he needs to dress accordingly. Or maybe your character is an auto mechanic who is fixing a carburetor. At some point, you will need to research something.
Whether you're required to meet stringent academic or nonfiction guidelines or simply tracking information for your own reference, keeping a record of your information sources is a good habit to develop.
What is Zotero and How Does It Work?
If you search the Internet for tools for citing references, you will find many available, both free and paid versions. I use Zotero, which is a free, open-source application. You install the app on your computer and you can add a plug-in to your browser.
The workflow is straightforward:
Read an article on the Internet.
Click the Zotero icon in my browser to capture the source and file it in a specific library folder.
Right-click the item in the Zotero app and select Create Bibliography from Item….
Choose the Citation Style and click OK to copy it to the clipboard.
Paste it into my Bibliography page.
Having a tool that automatically grabs the citation information from a website is enough for me to use this tool, but it actually has a method for organizing all of your resources as well.
Organizing with Zotero
The standard Zotero view contains three different vertical panes, the Library on the left, the list of items in the center, and the information about the selected item on the right.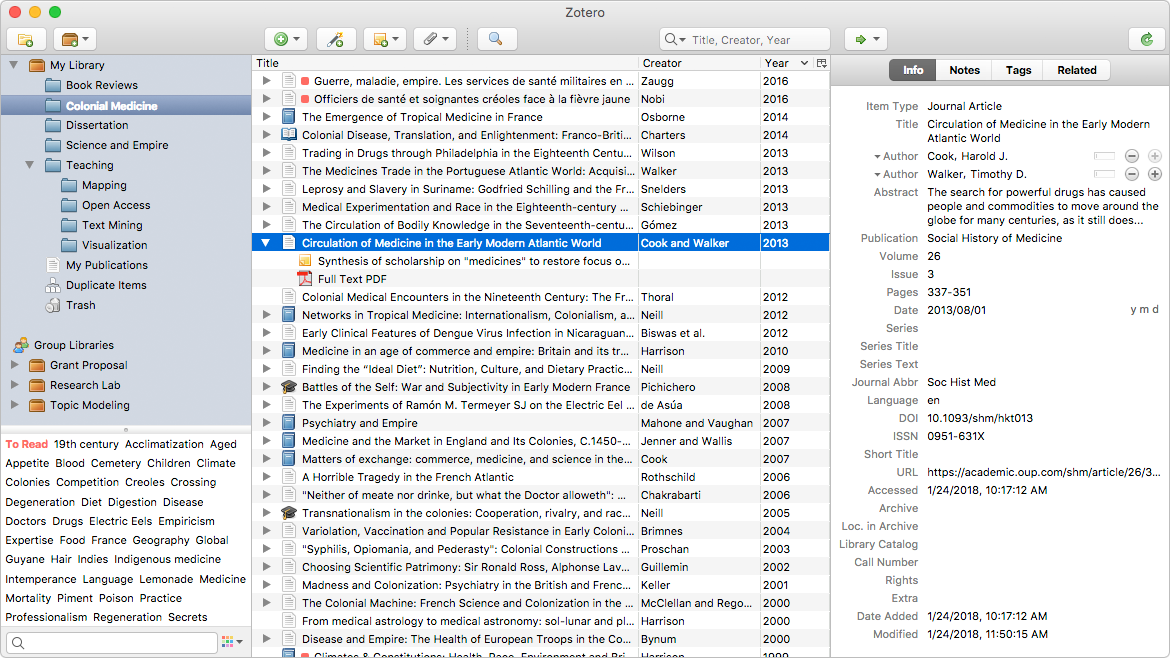 The makers of Zotero have arranged the Library section in a familiar folder structure which gives you a flexible way to organize your collections of resources. When you select a folder, the resources saved to that folder appear in the center pane. The bottom of the left-hand pane shows any tags assigned to the resource items in the folder selected. You can use these tags to filter the list.
The right-hand pane displays information about the selected item in the center. This section has several tabs at the top to help collect information about the resource. The Info tab includes typical citation information such as the author, title, date, and publisher of the resource. You can use the Notes tab to jot down any additional notes you want to remember, the Tags tab to create and/or assign a tag to that reference, and the Related tab to link the reference to another one that contains related information.
A couple of things to keep in mind:
You can update or change the information Zotero pulls from the website. The most common reason that I've changed what Zotero pulls is to add an author's name. Zotero seems to follow the "if it's not clear, leave it blank rule", and it's not always obvious who the author is on blog websites. Otherwise, I'm pretty happy with the citation information.
You can change the fields in the center pane and which column to sort by. This is useful when you want to see all resources from the same author or similar grouping.
Keep in mind that while I've focused on how easy it is to capture a resource from the Internet, you can add other resources yourself, resources such as books, newspaper articles, and films. You tell Zotero what you're adding and it provides the fields for you to enter your information.
No More Style Lookups
This article contains affiliate links, meaning we'll earn a small commission if you purchase products through these links.
Now that you have your resources entered, the best thing about Zotero is that you simply have to tell it which style you are using, CMOS, APA, etc., and it will produce the citation you need for your Bibliography. Simply copy it right into your document, whether it's Word, Scrivener or other document type. (This would have been nice to have when I was working on my Master's degree. I spent a lot of time figuring out how to reference my resources.)
Example
Below is an example where I'm citing one of the articles I read while preparing this post. I clicked my Zotero button in my browser and added the article to my Blog library folder.
Next I right-clicked on the item in the center pane and selected Create Bibliography from Item…. This copies the citation for your bibliography to your clipboard.
Then I pasted it here in the article for you to see.
Bailey, Jonathan. "Why Cite? Three Reasons to Cite Your Sources." Plagiarism Today (blog). Accessed October 21, 2020. https://www.plagiarismtoday.com/2017/05/16/why-cite/.
I've used Zotero for both detailed Bibliographies for my nonfiction work and in-house reference lists for my learning activities around writing. My Library folders include a folder for general writing research, my blogs, and each of my books or works in progress. Being able to capture the website link has saved my bacon a time or two when I needed to find that reference again.
If Zotero sounds like something that could help you, check it out here: Zotero. They've even given you a list of reasons to consider the software on this page: Why Zotero?.
By the way, I'm not an affiliate and do not get paid for telling you about this product. I just like it and use it.
Do you have any favorite tools or processes used to capture and organize your resources?